Belated Stuff Friday
We left out camera cord in Cali, so these pics will have to do in a pinch
Religion = Good
This is Fred the Tree.
He's my own personal version of church. Until I can find a regular church I like enough to attend every week, Fred's providing serious inspiration. Great views, nice pine-y smell, the thrill of sort of hanging off a cliff. Fred definitely helps me see outside myself and appreciate the world. Which is kind of what religion is
supposed
to do. Right?
Inside of Fridge = Bad
This is our first batch of carne asada and salsa in Pittsburgh, and I apparently turned into a complete manic freak. Lucky Mateo was there to document my fat-armed version of Vanna White...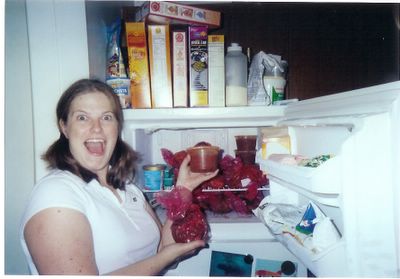 Posted by Spurious Nurse at 5/29/2005 07:44:00 PM