SPD: Draw It Your DAMN Self - or - Fried Like a Georgia Chicken
Did I mention that I got horribly, disfiguringly, vanity-scarringly sunburned in Washington, DC? I'm ususally relatively vigilant about sunscreen since I burst into flames when hit with direct sunlight, and I haven't had a 'cook eggs on my skin' sunburn for years and years. But this time,
I forgot
.
And somewhere around the 3:00 on Sunday, as Mateo and I walked through the gardens next to Congress, my dearest love turned to me and said the words any pasty-faced honkey bitch fears:
"Wow, honey. Looks like you got some color."
Fuck. In a flash I foresaw what will now be next month of my life. Filled with the requisite cooked-crustacean redness, itchiness and peeling that accompany's any of my jaunts in the sun which exceed 15 nanoseconds.
What I didn't know, was that my purse (my ass even
carrying
a purse was weird, but that's a separate post) had pulled my stupid v-neck shirt off-center. Meaning I now have a crimson, v-shaped,
asymmetrical
bib of future skin cancer stretched across my chest.
Nose, forehead and cheeks got a red too, but not AS red. Red enough for idiots to say, 'WOW, did you get burnt?' No, idiot. I've always looked like someone threw a wet Ferrari on my chest. So here's my self drawn SPD entry: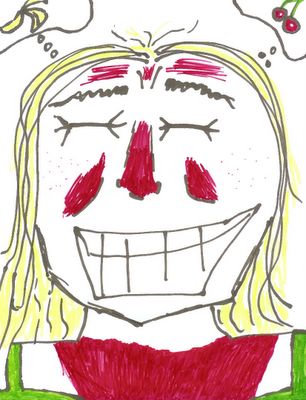 The red parts are the cooked ones.
P.S. And look. I'm thinking about fruit, just for you folks.
________________________________________________
Random Fruit Fact: The Red Naval Orange
"attractive due to its near crimson flesh..."
See? Crimson flesh = attractive. Sure. Oh, my aching ego... Learn more about the ned naval orange,
here
.
Posted by Spurious Nurse at 6/16/2005 09:25:00 PM