Fruit Boots...Now, With Tassels!
I don't claim to be a fashion maven, since I figure wearing converse, jeans and a black t-shirt every damn day disqualifies me for fashion superstardom. But I saw something which disturbed me deeply this morning.
A 20-25 year old male, wearing TASSELED LOAFERS. This kind: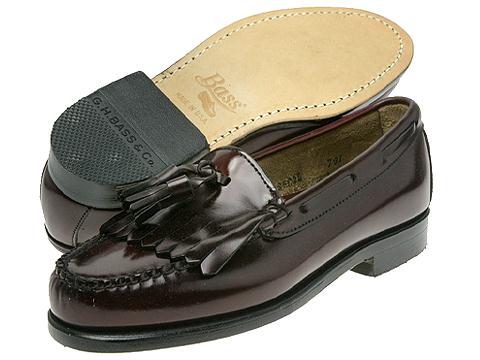 *Image courtesy of zappos.com*
These shoes are wrong. I've been told that they're purchased under the auspices of comfort, and I respect comfort, yes indeed. Comfort is the reason why I refuse to wear pantyhose at work, and subsequently blind my coworkers with fishbelly-white legs. But last time I checked my comfort instruction book, tassels were not required. Tassels are for strippers, curtains and nothing else.
For some reason, Papa Spurious has always referred to tasseled loafers as 'fruit boots' (ah…fruit history), asserting that the cut and tassel-iness of this footwear looks "fruity". Now before you jump on my Papa's case, remember he's old. He also owns and WEARS several pairs of 'fruit boots', purchased by Mama Spurious, so he's obviously not too hardcore about it.
But Papa Spurious is an old dude. Old dudes are permitted by the fashion police to wear clothing normally unacceptable the sphere of a 20-25 year old.
If you are a 20 year old male, you know better than to wear fruit boots. Scary thing was, you could tell by this kid's strut that he thought he looked
good
. He couldn't have bought them for himself because, God...who would? But regardless of where they were acquired, he should never have left the house. When you see fruit boots in your closet, you can take one of two paths, like a 'Choose Your Own Adventure' story:
Should You Choose to Keep Them
Hand over your membership card to the Church of Cool Manhood, because tassels result in instant excommunication. You won't be hanging out with hot chicks unless you're stuffing money in their g-strings. (See? Strippers=tassels)
Should You Choose To Not Keep Them:
Remember, they must be completely destroyed, so as not to alter the fashion life of future generations. Set them on fire, or see if you can stuff them in a document shredder. Then get your ass to Kenneth Cole or some shit.
____________________________________________________
Random Fruit Fact: The Saskatoon
"Saskatoons were a favorite of interior native peoples. The Secwepemc name for saskatoon translates as "real berry." Bears seem to agree, black bears often frequent areas where there are lots of saskatoons. The fruit is sweet and if you chew the seeds you may notice an almond-cherry flavor."
Learn more about saskatoons,
here
.
You can also learn about Dr. Jocelyn Ozga at University of Alberta, and her tireless efforts to bring saskatoons to your local grocery store (since they spoil in 6 seconds when left to their own devices),
here
.
Posted by Spurious Nurse at 4/11/2005 10:28:00 PM